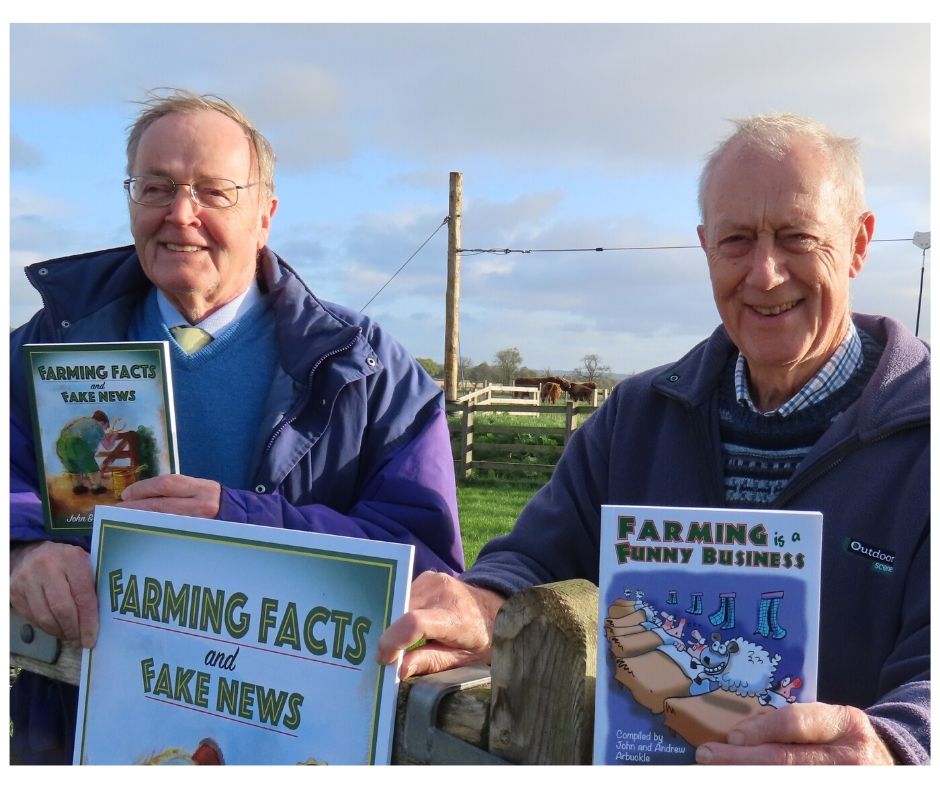 16 Apr

Arbuckle's seeking entertaining anecdotes in aid of RSABI

Andrew and John Arbuckle pictured with their previous books which raised over £72,000 for RSABI. They now hope their new book will take that total to over £100,0000.
The Scottish agricultural industry is being urged to get behind a new book of light-hearted stories being published to raise funds for RSABI.
RSABI, which supports people in Scottish agriculture, hopes the initiative will also raise the spirits of farming and crofting communities at this very challenging time for everyone and encourage people to connect by sharing their humorous memories and entertaining tales.
The new book, "Farming is Still a Funny Business", is being compiled by farming journalist, Andrew Arbuckle, who needs around 300 stories for the publication which is due to be available for sale this autumn.
Mr Arbuckle is appealing to people in the farming community to contact him with stories for the book, which will be sold with all profits going to RSABI. He can be contacted by email: Andrew@andrewarbuckle.org or by phone on 01337 870209.
The latest initiative follows two previous books compiled by Mr Arbuckle and his brother John, which have collectively raised over £72,000 for RSABI. Mr Arbuckle hopes that the proceeds of the third book will take that total to over £100,000.
The brothers were delighted with the huge success of their previous books – "Farming is a Funny Business" and "Farming Facts and Fake News". The hope is that the new book will raise a smile among those in the farming community, as well as valuable funds for the leading Scottish agricultural charity.
Mr Arbuckle said the aim was to produce books which could serve to record part of the wonderful heritage of the Scottish farming industry in the form of entertaining anecdotes from people involved in agriculture.
He already has some excellent anecdotes of farming life which people have shared with him but he says he needs many more to ensure the success of the new book.
"The type of stories needed for the book can be very wide-ranging – from quirky tales of things which happened in years gone by to wry observations from people in this exceptional industry," said Mr Arbuckle.
"More than ever before there is a need to be able to connect with people and relax and the aim is to get the book finished and published in time for autumn so it is available to buy as a Christmas gift."
Nina Clancy, Chief Executive of RSABI, said the charity was delighted that another book is in the pipeline and urged people to support the book by contacting Andrew with their stories.
"This is an incredibly tough time for everyone and this is a great opportunity to share memories of fun and light-hearted experiences to raise everyone's spirits.
"Our sincere thanks to Andrew and John for their superb efforts in producing two very successful books. We very much look forward to the publication of the third book and our thanks go to everyone who takes the time to support it by contributing a story."
The new title and the previous books "Farming is a Funny Business" and "Farming Facts and Fake News" will be available to buy for £10 via the online shop at www.rsabi.org.uk and at retail outlets throughout the country.
RSABI has a team of dedicated staff who provide vital financial, practical and emotional support to individuals and families with links to Scottish agriculture. The charity also offers support through its helpline, 0300 1114166, which is open from 7am to 11pm, 365 days a year.