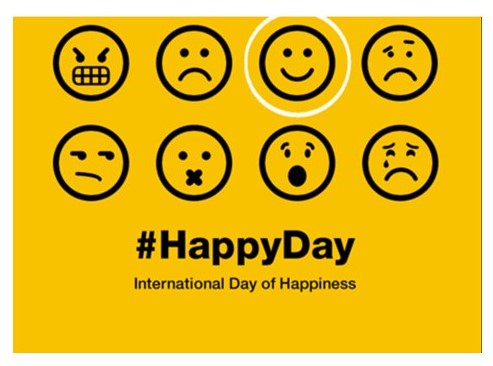 17 Feb

International Day of Happiness
We share the movements that we think are important to realise, in order to remain true to yourself, which in time may produce higher happiness levels:

Be busy with things you are passionate about.

Say 'yes' to things that will challenge and excite you.

Say no to things that are not in alignment with your ethics, morals and values.

Happiness comes from within don't rely on external factors.

Exercise and eat well. Don't neglect this.  It will impact your physical and mental wellbeing

Sleep & rest is important, don't take it for granted it will impact your mental and physical wellbeing.

Be comfortable with the uncomfortable and step outside of your comfort zone

Strive for progress. Work on your personal growth and if you don't set personal goals make sure you are actively seeking opportunities.

Don't be a victim of storytelling. If you are bringing the past into the present be aware of how you are doing this.  Remember and focus on the positive elements and leave the negative behind.

Make a 'Bucket list' of things you want to do.

Don't wait to be happy. Don't wait for a reason, don't wait for a person or a holiday or a new job or any of these external factors.  Be happy now!

Be present. Enjoy the moments of life.  Put down your phone, switch off those notifications, remember it with your minds eye rather than watch your most important moments through a phone screen.

Express Gratitude every morning for the things in life you are grateful for. Show your appreciation to others.  Don't keep either quiet or to yourself.

Find the positive in every situation, there is always a positive, even if the positive is that you have learnt something.

Spend time with people who are different and not like you. Take time to get to know people who have a different upbringing, belief, culture, way of thinking.

Help others, give back to your community and those around you. You will get as much back from this as you give, if not more

Be conscious of your emotions and behaviours. Are they of use to you? Do you need to let them go?