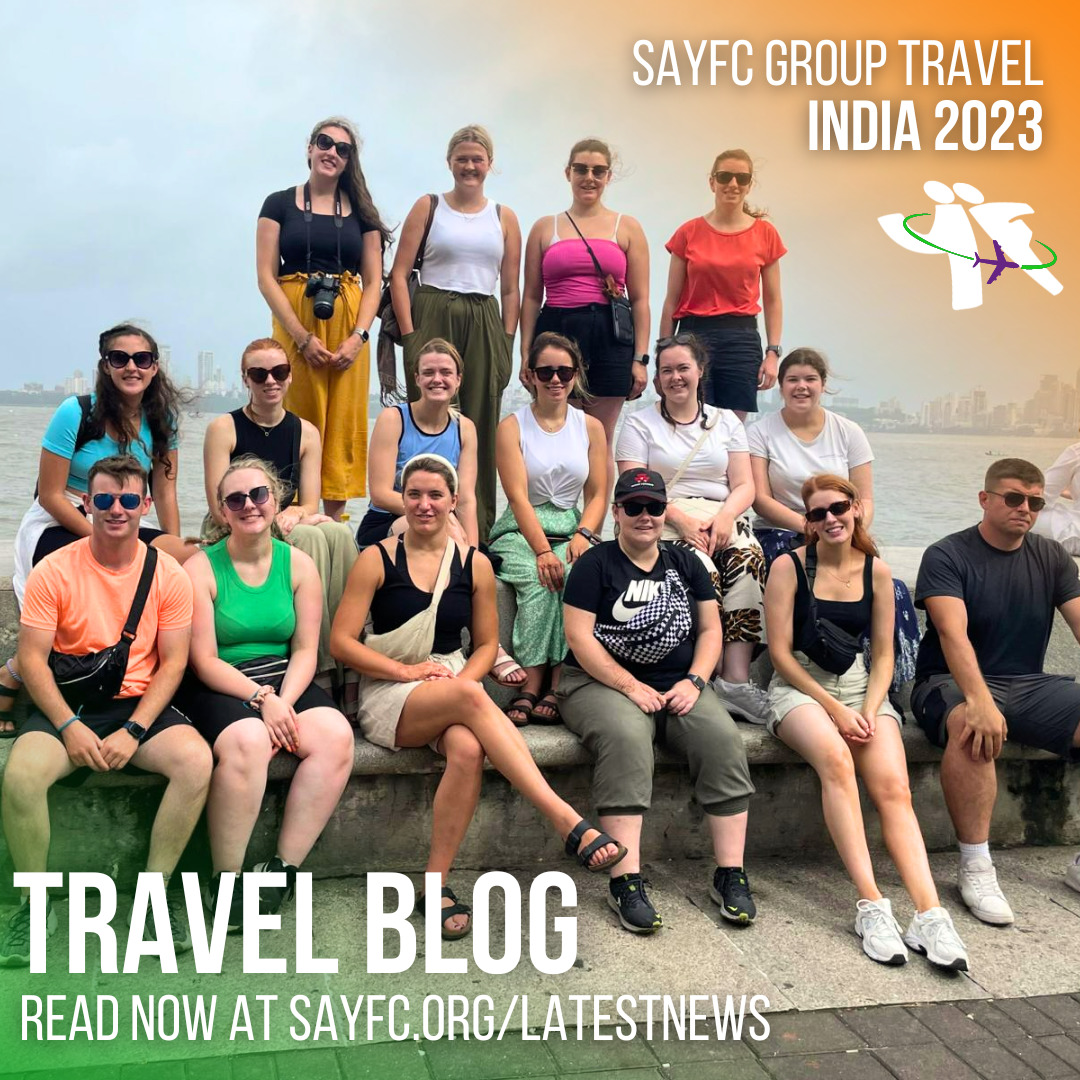 08 Sep

India Travel Blog
SAYFC India Report
On the 21st July a group of 16 SAYFC Members set off on a one in a lifetime trip to India. This blog is a recounting of their travels across this beautiful subcontinent, direct from the travellers themselves.
Day 1 : New Delhi 
After 11 hours of flights, we made it to Delhi. We were met by some local taxi drivers who took us to our accommodation for the night, we managed this with only 1 flat tyre!
The hustle and bustle of Delhi was a shock to everyone. It really is just like you would imagine, nobody drives in their lane, there's cows in the middle of the road, people trying to sell you fruit whilst waiting at lights and people literally piled into Tuk-Tuks or on motorbikes. It's one thing seeing it on TV, but to actually be a part of it still feels quite surreal!
Once we arrived at the hotel, we met with our local guide, Anu. He's been working as a tour guide for 13 years, and hopes to retire and combine his passion for farming and tourism by starting a agri-tourism venture in the near future!
We spent the afternoon getting our first taste of some Indian cuisine at a local restaurant before exploring the markets of Karol Bagh. In the evening we had a short introduction about what to expect from the tour from Anu, and then went for some dinner at a popular local restaurant – Hooter. This is not to be confused with the American chain – Hooter's!
By night, the streets of Delhi change completely – with neon signs and lights everywhere, and the same manic driving, it is truly a wonder in itself! A gentle stroll back to the hotel, and that rounds off our first day in India.
Anna McDiarmid
Day 2 : New Delhi – Agra
It was an early start for us this morning leaving the hotel at 5am. We took taxis through the bustling traffic of Delhi rush hour to the train station. We boarded the first train of the morning to Agra where we were seated in a nice, air-conditioned carriage which would give ScotRail a run for their money.
It was a quick 2-hour journey for most upon arrival we were met by our bus driver for the day who first of all took us to the hotel where we dropped off our bags and enjoyed the delights of the breakfast buffet.  After breakfast we headed out to visit the Agra fort this was a very interesting visit to the fort where we learned about its history when it was owned by royal family and military.
For lunch we decided to try out India McDonald's where the menu had some variations to what we were used to but some of us played it safe with chicken nuggets. Today we discovered the true heat and humidity, so the sweat sock was introduced.

We visited the Taj Mahal where we had to take golf carts up to the entrance. When we got our first glance it was breath-taking, it really was better than we all expected. We got a brief talk about its history and then lots of free time to explore and enjoy taking pictures of the grounds as well as the Taj Mahal.
After that we went for drinks at a rooftop bar where we could still see the Taj Mahal and the sunset. Dinner was a short tuk tuk ride away in a lovely restaurant where we tried so local delicacies. Once back to the hotel we played card games and enjoyed each other's company.
Anne Ashworth
Day 3 : Agra – Jaipur
We had an early start today with breakfast at the hotel and then it was back on our wee bus to the bus station where we were getting a public bus to Jaipur. Now this bus journey was what I can only describe as the warmest, stickiest and longest journey I've had.
1 bus, 140km, 6 hours, 16 tired Scottish young farmers and one toilet stop – this is where things took a turn.
We boarded the bus and were delighted to realise the fans installed were not working and the basic air con above our seats were barely blowing air our direction. This set the tone of what would be an incredibly warm and long bus journey where we were warned there was only going to be one toilet stop – so we had to plan around that but it was all part of the Indian travel experience so we kept each others spirits high!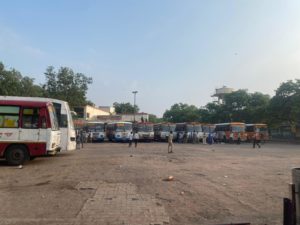 However, this bus journey is where things took a turn and the infamous Dehli belly caught up with the team. We had to request a stop so a toilet could be used an hour into the journey and the Imodium was being popped left right and centre and being shared around, as was the now also infamous sweat sock.
Once we stopped at the planned stop – we were all off to stretch our legs and try take in some fresh air.
There was one "western" toilet and two more traditional Indian toilets – to put it in straight terms, a hole in the ground. A few brave members had a go at the traditional toilets whilst most opted for the safer option of the "western" toilet under the circumstances.
We stocked up on juice and snacks and got back on the bus from hell.
The journey seemed to get hotter and more uncomfortable the further we travelled (or maybe we were just getting grumpier). About 10km from our destination – we were startled and woken up by this very loud bang. We had no idea what it was or what was happening, but soon learned we'd gotten a flat tyre. Thankfully, our bus driver was a little more on the careless side and decided to keep going and we arrived in Jaipur shortly after.

Once leaving the bus, we then got taxis to our hotel.
Upon arrival, we were greeted with fresh flower chains and blessed with a dot on our forehead and showered with rose petals as we headed up the stairs – this was a beautiful welcome to this lovely home for the next couple nights.
Anu then got some homemade samosas for a light lunch for everyone and those that weren't feeling great opted for some crisps from the wee shop around the corner.
After lunch we had some down time – some folk opted to catch up on sleep and some sat in the courtyard area soaking up the sunshine on offer. This was where some of the group had an encounter with a monkey! The monkey made its way down to the courtyard alongside some of the group and got on a chair round the table – this is where the monkey then decided to mug Gayle, stealing her mango juice and running off with it! This caused quite a lot of hilarity as you could imagine!

We then went on an orientation walk round Jaipur which was great, this was our guide Anu's hometown so he was really excited to show us around.
We travelled by TukTuks from the hotel to the markets for our walk – which is always an experience – and we even drove through the middle of a man herding cattle down a narrow street.
Once we arrived, we headed down the spice markets which was really impressive. The hustle and bustle of the busy markets kept us all engaged and our eyes explored every different stall as we passed through raking in all the smells and colours the markets offered. The aromas of all the spices were incredible and the streets were full of it. We then got the chance to buy some of our own spices in one of the shops and the man in the shop talked us through them and let us smell all the spices!
Happy with our purchases we headed for dinner.

Now this was an experience of it's own as Anu decided he was going to walk the whole group of us through a busy roundabout on foot. He briefed us, telling us to not look and just go – and so we went for it. Tuktuks, motorbikes and cars were coming at us from all angles and horns were being blown but we were not stopping and somehow we made it across in one piece.
For dinner, we were at Anu's favourite restaurant. This was a rooftop spot with good music and amazing views of the city. We got some cocktails and ordered food which was delicious! We also got treated to seeing how naan breads are made which was great and Nicky even gave it a go!
We then had a few more drinks, enjoying each others company and getting to know each other a bit more and we ended the night with a Duck Fart – a shot of whiskey, baileys and absinthe and "cheers-ed" to new friends and India.
It was then TukTuks back to the hotel where we settled in for another night.
All in all – today has had its ups and downs but we have such a good group of folk on this trip and we are having the best time and we're only 3 days in! Looking forward to tomorrow.
Beth Douglas
Day 4: Amber Fort and Jeep Safari
The day started at 9am. Once we avoided the monkeys at breakfast, we took a taxi from our bright and colourful hotel to Amber Palace in Jaipur.  Whilst en route we passed our first sight of Elephants, and several members of the group were enchanted by a local Cobra Snake Charmer.

We were given a fantastic tour of Amber Fort by an incredible local man, full of life and banter. He described in great detail the full explanation behind the blend of Hindi and Muslim architecture.  From here we got TukTuks to a local family fabric makers recommended by our Guide.  They kindly gave us a detailed demonstration of the very labour intensive, skilled work that goes into block printing every piece of fabric.  This family business were very accommodating and many members have come away with pieces of clothing they will keep for life.
Jaipur is a city very famous for its textiles and jewellery so once textiles had been ticked off the bucket list, our Guide took to us to another large family run jewellery business. Here we were shown the detailed craftsmanship and delicate handwork that goes into polishing and shaping each gem.  Again, many members of the group purchased beautiful gemstone items they can wear in memory of gorgeous Jaipur.

Following our afternoon of shopping till we dropped, we stopped off at a restaurant which was called 'Kitchen with a Cause'. This restaurant's story is that they offer internships to young people around India, helping them to develop skills in hospitality and once qualified from the internships, they provide connections to ensure they enter a full-time paying job.
Once we returned to the hotel, a quick turnaround was had as the next activity of a Jeep Safari tour round the nightlife of Jaipur was on the cards.  We piled into the open roof Jeeps and headed up the hills of Jaipur for a gorgeous overview of Jaipur, seeing both the old and new city lit up. Following our large but tasty lunch, dinner was late, and we headed back to the hotel at roughly 10pm.
Charlotte Wildman
Day 5-  Jaipur to Tordi
This morning we rose at 4:30am bright eyed and bushy tailed to set off on a cycle tour of Jaipur at 5am. Archie the architect would be the groups wildly enthusiastic Tour de India guide. Our first stop was a home from home for some of our members and involved practicing good karma in the form of feeding cows on the side of the road with some fresh cut grass. We then crossed the usually grid locked roads (reasonably quieter at this time) to indulge in a piping hot cup of masala chai presented in a clay eco-friendly cup, disposal involved us smashing them into a bin.
Hopping back onto our bikes we cycled to the Albert Museum and park where we raced and took pictures and shouted "Raday Raday" (a positive greeting) at the locals which was met with a gleeful response from most. Back in the saddle we headed to an abandoned palace tucked into the lane of a quiet street, the palace stood in a shadow of its former glory all bar the ceiling in the area the royals would watch entertainment and dancing. This ceiling still colourful and beautifully painted, the reason it had remained intact for hundreds of years? Cow piss.  The urine has served as a protective coat that also preserved the paint work. Fruit and flowers were next on the agenda as we cycled to a local open-air market where we were presented with the first of many fresh flower necklaces.

As we navigated the hustle and bustle of the markets, we were confronted with an array of colours, scents and eventually tastes. A delectable plum and banana from one of the most famous vendors of the market would be the fuel that filled our tanks. Laughing yoga in the park would consume our next half hour followed by morning prayer in a Hindi Temple. It was now around 8am and the group stopped at possibly our most memorable stop, initially we weren't really sure what the stop required but after being handed a microphone and sheets of Lyrics which read "Harry Krishna" we danced and sang on a loop for around 30 minutes (there is undoubtedly video footage on an online forum). The lyrics to the song did become the anthem to the remainder of the trip and will remain in everyone's memories eternally. Breakfast was next on the tour, and it consisted of a delicious, spiced potato and onion pastry followed by Jalebi a sweet crispy deep-fried treat. After eating and dodging the ever-increasing traffic we headed to a lane dedicated to stone masons and were shown the delicate process from start to finish of producing marble sculptures. It was an intricate process that required a steady hand and a high level of skill. We finished our cycle tour with a cup of Lassi (a cold sweet yoghurt drink) and headed back to the hotel to prepare for a 3-hour road trip to Tordi Saggar by jeep.

After a hot and uncomfortable drive, we arrived in Tordi and were greeted with a cold glass of Pepsi we handed our passports over and after officially checking in we headed for some lunch in the hotel which consisted of an eggplant or dumpling curry with rice and a selection of breads. Some of the girls then took the opportunity to get a henna tattoo from a local artist before we all met to go on a jeep safari of Tordi. Tordi was as far into rural India as we had ventured and consisted of a very small community of families mostly working the land. Their harvest was only intended to see them through the winter and feed the village anything surplus was a bonus and would be sold locally. Crops grown in the area surrounding the village include papaya, millet, potatoes, courgette, corn, sugar cane, chillies, pumpkins, and cabbage to name a few. Further out of Tordi was a small settlement that was compromised of traditional buildings, these buildings were clad in mud with thick overlapping panels on the roofs and small windows only for ventilation. Built long before A/c they were designed mostly to create shelter from the baking sun. Cooking in these villages would be done mostly outdoors over an open fire using dried cow dung as fuel. Stock wise the locals kept a selection of goats, water buffalo, sheep, and cows. Usually in very small numbers as grazing is very limited. On route back to the hotel we passed some local wildlife including a water snake and a kingfisher which inspired a cold beer and some cards when we got back to the hotel. We finished the day with a home cooked meal that utilised a lot of the ripe local veg and watched the thunder and lightning whilst drinking a kingfisher.
Eilidh Strawhorn
Day 6: Tordi Sagar – Pushkar 
The morning started with a walking tour of the small rural village Tordi.  As we walked around the village we got an idea of what rural life in India is really like and during the tour we stopped in past a potters house to watch him manually spin his potters wheel and produced multiple bowls, plates and vases.  A couple members of the group then had a go at sculpting some pottery.


We then jumped on board our 4x4s which took us on a 4 hour journey to Pushkar.  During this journey we got a real taste for Indian driving by taking a 3 point turn and driving the wrong way down the motorway to avoid a 5 hour delay due to a traffic jam.
On arrival at Pushkar the group took the opportunity to relax in the pool for a couple hours entertaining ourselves by playing charades whilst jumping into the pool.  We finished off our pool session with a group jump into the pool which created a wave which resembled a monsoon flood.
The evening saw us take on a different mode of transport… a camel.  We rode camels out of Pushkar to the dessert where we tried on traditional Indian clothes, sampled local Indian rum, had a traditional Indian dinner, watched an Indian magician who was very entertaining and got a performance by local Indian dancers who invited us to join in a learn some of their moves. We then took a very jolly jeep ride back to the hotel.
Ellen Glennie
Day 7: Pushkar
Our one and only full day in Pushkar began with an orientation walk through the city to view some of the beautiful architecture on display.  We were also able to walk through the local markets and greet some of the locals on our way.  This was cut short when the group was caught in the middle of a thunderstorm and were forced to take shelter!

We then headed to a rooftop restaurant to take shelter for an early lunch and to watch the storm unfold but mainly to dry off!  With no signs of the weather improving, we took to the streets to wade through the rivers forming in the city, and no waterproofs could protect us from the flood waters!
It was then time for a trip to a local resort for a pool party, which thankfully went ahead after improvements in the weather! The group had a fantastic time by the pool, with some relaxing and some showing off their competitive Young Farmers spirit in a game of water polo!  We also enjoyed some drinks and a BBQ prepared by our head chef, James Scott!
It was then back to the hotel for an early night ready for another packed day of travel!
Emma Shanks
Day 8: Pushkar- Udaipur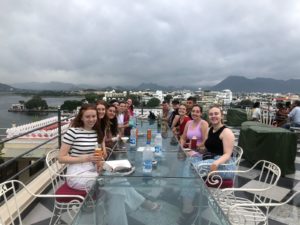 Waking up on our 8th morning, we were looking forward to leaving the rain and floods behind in Pushkar. We left our hotel at 7am to head to the train station, our 8am train turned into a 9am train – apparently very common for Indian railways! We spent 4 and a half hours travelling on a very comfortable train and even had lunch delivered to us onboard! We arrived in the beautiful city of Udaipur and took tuk tuks to our hotel. Here we would spent 3 nights so we're very glad to find a lovely hotel with excellent showers and air conditioning!
After a couple hours or relaxation after our long journey we headed out to a rooftop restaurant for dinner and drinks. We began the night with cocktails at an outdoor table appreciating the scenery around us. Udaipur is know as the 'City of the Lakes' or the 'Venice of the East' and it lived up to the expectations! Our guide told us about the history of the 3 ancient palaces we could see from the rooftop. Firstly, the Summer and Winter palaces, located in the middle of one of the lakes, one of which featured in the James Bond film Octopussy and once had Beyoncé flown in to perform at a wedding, and finally the Monsoon palace which sat on top of one of the hills outside the city – we could have done with being there day previously in the floods! After our drinks on the rooftop we retreated to the lower floor of the restaurant as the rain returned and enjoyed an excellent dinner to round off the day!
Fiona Cuthbertson
Day 9: Udaipur
Our ninth day of travel in Udaipur was filled with a mix of cultural exploration, artistic marvels, and delightful culinary experiences. However, the day began with a bit of a setback as some of the group awoke to swollen eyes as a result of the dreaded eye flu. Undeterred by this hiccup, and with the help of some seriously strong over the counter eye drops we embarked on a fascinating tour of the City Palace.
The Palace is located on the eastern bank of Lake Pichola and its construction was started by Maharana Udai Singh II, the founder of Udaipur, in the year 1559. Over the centuries, successive rulers of the Mewar dynasty made additions and modifications to the palace, resulting in a blend of architectural styles that reflect the changing tastes and influences of different eras. 
We learned that most rulers of India are known by the title of "Maharaja" which translates to "great king," signifying the noble rulers of the past, while "Maharana" as the Mewar dynasty use means "great warrior," highlighting the valour and courage of the region's historical leaders.
It's a sprawling complex built entirely from granite and marble with various courtyards, museum exhibits, stables and gardens. The palace's design is characterised by ornate domes, intricately carved balconies, arched entrances, and beautiful frescoes that exhibit delicate mirror-work, marble-work, murals, wall paintings, silver-work, inlay-work and coloured glass.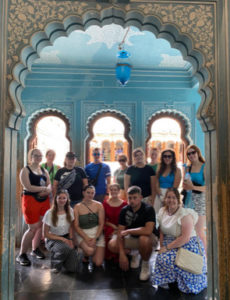 Highlights of the tour included;
Mor Chowk a courtyard known for its stunning peacock mosaic made of coloured glass pieces. The elaborate design of this chamber consists of three peacocks representing the three seasons of summer, winter, and monsoon.

The museum displaying a rich collection of artifacts, including weapons, armour, paintings, sculptures, and historical memorabilia. Some paintings showed that elephant fights were once staged at the city palace. This was a bloodless sport where a huge wall separated the two animals and was done to test their prowess before starting on war campaigns. The elephants would pull on each other using their trunks and tusks from either side of the wall and whichever touched the wall with its legs first would be considered weak. 

The many royal residences including Manak Mahal – a beautiful collection of glass and mirror work that adorns walls and ceilings showcasing the intricate glass mosaics and decorative windows that embellish the rooms of the palace.  
Unlike similar places the City Palace in Udaipur is an active residence of the royal family and continues to play a role in local festivals, events, and cultural activities throughout the year. It offers an enchanting experience as you step into a world of opulence, artistry, and regal charm, all set against the backdrop of the picturesque Lake Pichola. 

Moving on from our tour of the city palace, Udaipur, is renowned for its tradition of miniature paintings (These are considered works of art on a small scale) The city has gained fame across India for its exceptional craftsmanship and intricate detailing. 
We visited a miniature painting studio and art gallery where we witnessed artists skilfully painting on various surfaces like rice paper, marble, wood, and ivory substitutes. The artists here use six base colours derived from natural stones, along with gold for intricate detailing. For instance, lapis lazuli provided the vivid blue, cow urine was used for yellow, ochre for red, malachite for green, charcoal for black, and corn shell for white.
The glue used in these paintings is sourced from the cashew tree, and cow urine contributes to the unique lustre of the colours. Even the brushes used by the artists are made from eyelashes of camels when they die. Adding a touch of nature to their creative process.

We learned that these paintings often feature symbolic animals. Peacocks symbolise beauty, cows represent holiness, elephants bring good luck, camels are associated with love, tigers embody courage, and horses signify power. To display their talents the artist's treated us to miniature nail art drawn on our fingernails.  Most us got an elephant, camel or Indian lady painted on our nails but Nicky was treated to an X-rated image (I'm sure he'd be more than happy to show a detailed account if asked) We finished our time at the gallery perusing the paintings on display and purchasing items to take back home as a memento of our time there. 

Our cultural immersion continued as we were treated to a traditional Indian home-cooked meal prepared by a homemaker. Unfortunately, I didn't catch her name but our guide Anu just called her Raj's mother. The lesson began with learning how to brew an aromatic masala chai which is the most commonly drank tea in India. We then learned the tips and tricks on how to make delightful dishes such as vegetable pakora – served with a mango chutney, Malai kofta (a fried potato and paneer dish with cashews and raisins) Jeera bhindi (a vegetable dish made of okra, cumin seeds and spices) Pulao rice, Chana Masala (Chickpea curry) & Chapati breads 
Each dish was a tantalising journey through the Flavours of Rajasthan and we all had the chance of assisting with the preparation and cooking of all the dishes along the way. However, the spice in the air proved too much for some and eventually the sun glasses had to come out to protect the eyes from stinging. Once everything was prepared, we all sat down together and enjoyed a lovely meal whilst talking to our gracious hosts who invited us into their home. 
With our appetites satisfied, we had some free time to explore the local markets and soak in the vibrant atmosphere of Udaipur's busy street life. 
As the day drew to a close, we embarked on a serene boat ride around lake Pichola, taking in the breathtaking sunset views of the city whilst enjoying the lake's surroundings. It was here that we got a close-up view of the many abundant palaces. Namely the 3 depicted in the 1983 James Bond film Octopussy – Shiv Niwas palace (Bonds Hotel) The Taj Lake palace (home of Octopussy) and Monsoon palace (Kamal Khan's residence). 
Later in the evening, we gathered at a rooftop bar where we enjoyed live music, sipping away on cocktails. Where the whimsical name "Tommy Pierce" was created for our guide Anu. To cap the day off on a sweet note, we indulged in Baskin Robbins ice cream, a familiar treat amidst the exotic surroundings of Udaipur.
Gayle Allan
Day 10: The Most Exotic Marigold Hotel
Following a whirl wind tour of India over the last 9 day, we opted for a more relaxed and chilled out day. What better way to spend it than watching, 'the most exotic marigold hotel' in The most exotic marigold hotel!
Our day started started with an hour and half bus journey which included a quick pit stop for beers, breezers and banter. On arrival to the hotel we were welcomed in
to the home of the family who own the hotel to watch the first film, have lunch and learn about the family. We quickly learned that the family had lived in this area for over 400 years and are well known for breeding Marwari horses (a native Indian breed of horse which was used for battles and wars). The family are regarded so highly for their breeding the owner of the hotel was part of the horse show for the Queens Diamond Jubilee in London.
After the delicious lunch in family home the owners son gave us a tour of the hotel, where we seen and took pictures in some of the iconic scenes from the movies. We then went on to be given a tour of the local village where the hotel is situated. This included seeing local crops of corn being grown, meeting locals and allowed some of our members to try milking goats.
Once the tour of the hotel and village had been complete we where kindly allowed to stay at the hotel to use there swimming pool facilities for the rest of the afternoon before heading back to our hotel in Udaipur to get showered and changed before a lovely meal next to the lake.
James Scott
Day 11: Udaipur – Mumbai
We awoke our last morning in Udaipur for what was to be a big travel day. Half of the group opted for an extra hour to take advantage of our nice hotel and a casual breakfast; the other half opted into an art class. We walked back to the Janak Art School, where we had previously visited for a talk and viewing of their artwork. We opted for a lesson in creating an elephant watercolour painting. We were shown how to sketch an elephant, which took no time or errors at all by the professionals! Our sketches took shape well, although eraser action was certainly required for some!
We moved onto the watercolour, using paint coloured by vegetables, charcoal, and even cow urine, and paint brushes made from camel eyelashes.
In just over an hour, our watercolour art was completed, and one of the artists signed our names on our artwork in Hindi. We headed back to the hotel just in time to leave for what would be a 940km journey from Udaipur to Mumbai!
In our air-con upgraded bus, we first headed to Ahmedabad where we would be catching the overnight train to Mumbai.
15 minutes in, we had to stop at the side of the highway to put air in the tyres from an interesting looking contraption, and then we were off again.
This was the least busy highway we had been on so far, with steep sharp corners, and signed as an accident prone zone, littered with propped up smashed cars with SLOW written on them.
Embracing Indian culture at the first comfort break, we ordered pizza, chips, and juice… However, there was no juice and no power, so chips and water saw us to the next stop. Here we were even more adventurous as one of the group's crisp packet was attracting ants, which didn't go well for the ant that was consumed along with a crisp! Extra protein…?!

Across the more open areas, our attention was drawn to the government owned land planted in trees. There was also a glimpse at deer for the first time, grazing at the side of the road among the trees. We also saw hedge cutting, carried out by hand along the side of the now busier highway, with no barriers or warnings.
On arrival in Ahmedabad, we went to a mall which boasted an array of familiar and unfamiliar highstreet and designer shops. We ate dinner at the 4th floor food court before our final short trip on the bus to the train station.
Ahmedabad was the first departure stop for the train which allowed us to board early and get ourselves organised with our bed numbers. The carriage was split up into small bed groupings of two lots of triple bunks on one side, and one double bunk on the other side of the corridor.
Like monkeys in a zoo, we spent our early boarding time climbing up and down the beds and arranging our sleeping situation. The train departed at 9pm, and we began our 700km journey to Mumbai. There were a few bumps and jerks along the way, accompanied by some snoring neighbours, a blanket thief, and a debate over what was riskier – using the train squat toilet, or walking to it passed the open doors either side of the carriage at 80km/hr! We went to sleep, to be waking up the next morning in Mumbai.
Jillian Kennedy
Day 12: Mumbai
Our morning started at 5am with a sharp awakening on the sleeper train- let's just say it wasn't quite the Caledonian Sleeper. Now well seasoned travellers and having completed "all modes of transport" in India, we headed off to check out the city of Mumbai. Mumbai (formerly called Bombay) is India's largest city and heavily populated with 21 million people. It's name was changed in 1995 when government saw Bombay as a legacy of British colonialism and wanted the name to reflect its Maratha heritage, thus renaming it to pay tribute to the goddess Mumbadevi.


After a very quick freshen up in our new accommodation we headed for breakfast and then into a set of taxis for a tour of the city. With this being our only day in Mumbai it allowed us to quickly check out most of the top sights.
We made stops at Gateway to India (built in 1924 for King George Vth and Queen Mary) a temple for morning prayer, an eye opening visit to a local slum- featured in Slumdog Millionaire, and to the birth place of Gandhi, learning about his life and political acts.
One of our stops was Mahalaxmi Dhabi Ghat, a 125 year old open air Laundry and work place of 7000 people, they hand wash for up to 20 hours a day, this place is featured in the Guinness world book of records and the laundry has been a filming location multiple times.
Our last taxi stop was an authentic Indian food Shop…..McDonalds… for some much needed caffeine and scran before heading back to the hotel to catch up on sleep and get ready for High Tea at 5 star hotel- The Taj Mahal Palace.

After dressing up to the best of our travel clothes ability we headed out for the one of the most boujee afternoon tea experiences, although Mairi was more delighted just to get a cup of English Breakfast tea. After stuffing ourselves with pastries, mini sandwiches and cakes we then headed to the cinema, where the group were split between viewing Barbie and Oppenheimer. Much to our surprise in Indian cinemas they have an interval half way! With an early flight in the morning we headed back to our hotel and packed up, ready to head to our final stop of the trip- Goa.
Joanne Hall
Day 13: Mumbai – Goa
An early start on day 13 as we headed to Mumbai airport for our internal flight to North Goa. After the short 1 hour flight, we travelled by taxis to the hotel, enjoying the beautiful scenery on route.
When we arrived in Goa and settled into our hotel, thereafter we enjoyed some well needed down time on the white sand beaches and took a dip in the Arabian Sea. Sadly the monsoon weather got the better of our relaxing so we turned to beach bars for some cocktails and massages from locals instead.
In the evening we tried some delicious Goan cuisine and fresh seafood, and took in the nightlife of this coastal state.
Mairi Macdonald
Day 14: Goa
After our last big night out experiencing the bars of Goa we had a slow start to our last day in India. The sun shone, so a day on the beach was very much required and really our first bit of proper sunbathing. This was instantly regretted when some very burnt people had a very long journey home to look forward to.
Next was the goodbyes to tour guide and friend Anu who went above and beyond to give us a real experience of India and keep us right of where and where not to eat! We could not believe how quickly the two weeks had flown in and how close the group had become.
With reunions planned we started the long journey back to Scotland with memories and stories from the trip of a lifetime! Thank you SAYFC Travel.
Mhairi Hall