05 Sep

International Charity Day

As an association we are proud of the amazing generosity of our members and the effort and work they do every year to raise money and awareness for charities. Tuesday the 5th of August marks the UN's International day of Charity 2023, and in honour of this we have collected just a few examples of the charitable endeavours from clubs and members throughout this past year.
Lower Nithsdale YFC 'A Push and a Pull for Parkinsons UK'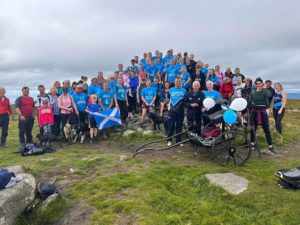 On Sunday 27th August 2023, Lower Nithsdale YFC members climbed Criffel. But with a twist. During the climb they assisted friend of the club Ian Burgess to reach the summit of the local landmark with the use of a cart.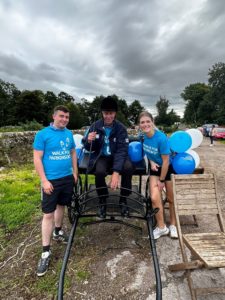 Ian has lived at Maryfield Farm, New Abbey for 52 years, however has never climbed Criffel in his lifetime. Sadly, due his Parkinson's diagnosis Ian could no longer achieve this feat by himself which is where the club stepped in. Members climbed 1875 feet to reach the summit, all whilst pulling the cart which Ian sat on to help him fulfil a lifetime goal. Ian described the view from the top as 'never imagining it would be like this' and being 'proud of the young farmers' for helping him fulfil this goal.
So far they have raised over £10,500 from this event which is being donated to the club's chosen charity this year: Parkinsons UK.
The club are taking part in various other charity fundraisers throughout the remainder of the year: the Kilt Walk, Coffee Afternoon, Tractor Run and Charity Calendar.
---
Emma Gray (Peebleshire JAC)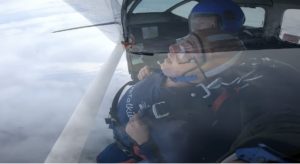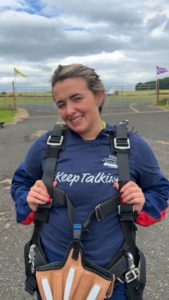 I'm a past secretary of Peebleshire Junior Agricultural Club , and current assistant secretary of Lothian and Peebles District.
I recently completed a charity skydive for RSABI in memory of my late father who passed away in 2018 due to suicide.
I've raised just over £3000 so far and my just giving page is still open, my dad was a member of young farmers In his younger years too.
---

Strathmore JAC Cycle
Strathmore JAC raised £725 for the Doddie Weir Foundation with a 30-mile charity cycle around the Strathmore area on May 26th.
---
Bankfoot JAC

Bankfoot JAC (Perthshire District) have recently donated their time to Murthly Primary School to help them develop their outdoor learning space. They cleared their old vegetable patch of planters and removed the fence as the first stage to transform the area into a cycling zone, complete with a combine tyre in place as the roundabout!
---
Biggar's High Flyers and Climbers
For their 80th anniversary Biggar YFC have hosted two charity events this year so far, one being a Skydive and then a climb up the well known Munro Ben Lomond.
4 members took to the skies whilst an incredible 66 past and present members took on Ben Lomond, two fantastic days raising money and awareness for charities which are very close to the club's hearts.

The club is raising money for two charities this year, 'The Scottish Ambulance Service – Air Ambulance department' & 'Brake'. They chose 'Brake' in memory of Beth Damer and for the support given to the Damer family during such a difficult time. whilst the Scottish Ambulance Service (air ambulance department) has directly helped many of their past and present members within their rural area.
Overall they have raised £5,300 so far with their just giving page still open.
---
Keith and District Charity Raffle
Keith and District Young Farmers donated £1000 to a local charity, The ARCHIE Foundation. They achieved this fantastic total by raising the funds as part of a raffle to win a garden shed. Making the Difference' for close to 100,000 patients every year, the ARCHIE Foundation provides all of the extras that allow an enhanced level of care for local children.
---
Stranraer and Rhins Conquering Km's
On Saturday 19th August 2023, 30 Stranraer and Rhins Young Farmer members took on 'Conquering Km's'.
This Olympic style Triathlon involved a 10km run around the Stranraer area , 1.5km swim in Stranraer Academy pool and a 40 km bike ride from Stranraer to the Mull of Galloway.
In all the days efforts raised £1440 for the West Galloway Branch of St Johns Scotland and Stranraer and Rhins YFC Club funds.
---
Forfar JAC Tractor Run
Last December, Forfar JAC ran a charity Christmas Eve tractor run with proceeds being split between RSABI and Angus Toy Appeal. They raised over £2000 between their JustGiving page and cash donations.
---
West Renfrewshire's 80th Anniversary Field Day
West Renfrewshire YFC recently hosted their 80th anniversary field day which incorporated some fundraising events for their chosen charity this year, St Vincent's Hospice, which is a local charity very much in the heart of their community.

It was a great way to kick start their fundraising events for them with teams taking part in a charity tractor pull, club chairs chair Linsey Campbell and John Miller being gunged and an auction to round the evening off! None of which would be possible without the continued support of the local community and businesses that donated items to the auction and helped make the day possible.
---
Brechin's Charity Stockjudging
This year, Brechin YFC have successfully donated £500 to the Scottish Charity Air Ambulance, and raised money on behalf of RCNI via a charity stock judging event, raising a tremendous £476.50. They also had members participate in the Kiltwalk representing themselves as Brechin YFC!
---
Stewartry YFC's Big Climb
On 27th August Stewartry took on the challenger to climb Screel 4 times to be the equivalent height of Ben Nevis in aid of raising money for DGRI Critical Care and Children's Ward. Those that took part gave it their all and we'll and truly felt it the next day.
Jim Goldie, 12 years old who had a liver transplant 3 years ago took on the challenge like a champ with his sidekick Teddy bear who has been along the journey with him all through his life and every procedure he has went through, his brother Niall was also by his side the whole time.
Those that took part all had something to give back to both wards and are grateful for all the work they have done.