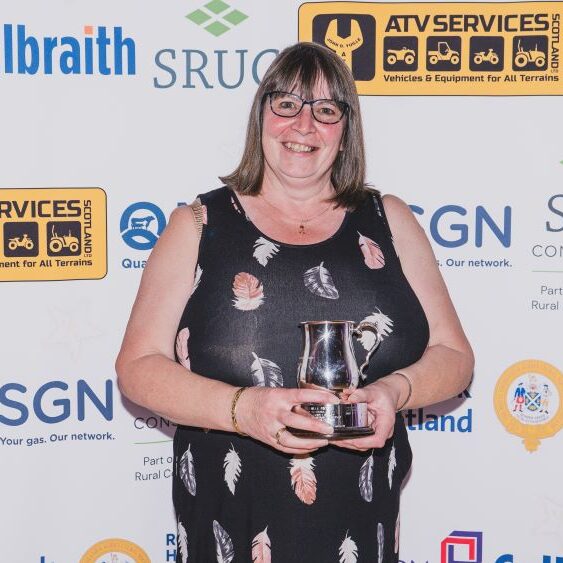 21 Nov

Outstanding Contribution- Jane Kennedy
Aberfeldy Adoptee Celebrated for her Outstanding Contribution
Jane Kennedy Recognised for Involvement and Commitment to Her Local Club
At our recent Five Star Awards, (Past Bell Baxter Member and current Aberfeldy & District Vice President) Jane Kennedy was presented with the evening's most prestigious honour, the award for 'Outstanding Contribution' to SAYFC (supported by RHASS). This award recognises an individual's dedication to the young farmers movement. The award is given to a past member or supporter of SAYFC who has worked tirelessly for SAYFC, either through delivering innovation, championing the needs of young people in rural Scotland or fellow young farmers, spearheading change and/or promoting young farmers to the wider public.
And Jane is a very worthy recipient!
Although Jane was not an Aberfeldy club member as a Young Farmer, she has certainly become one in an honorary sense! Having now been in the area for nearly 30 years, and had three children grow up through the club, her involvement has only increased. Jane is currently serving as one of the club's vice presidents and is always eager to lend a hand in any way she can.
She routinely hosts meetings and barbecues for young farmers and willingly offers her services as a steward, advisor, and judge at club events, as well as those for the greater Perthshire district. Jane is a regular attendee at club events, and her involvement with the sheepdog trials and root, seed, and produce show is noteworthy. She is also a strong advocate for the club's increased participation in the local show committee and the local NFUS branch.
Jane's boundless enthusiasm for the club, its members, and what SAYFC represents to its members nationwide is evident to all who know her.
Jane had this to say of her win:
"I feel very honoured to be recognised by Aberfeldy and District JAC in this way and to be presented with the Ritchie Trophy.
Young Farmers is a fantastic organisation, which has been part of my life for many years, giving young people from all walks of life a great opportunity to embrace all the educational and fun activities that it offers."
Katrina Kennedy (Aberfeldy & District JAC Club Chair) is very appreciative of Jane's involvement–
"Jane is a fantastic asset to Aberfeldy and District JAC and has been for a number of years. Between stewarding/judging events to taking part in stockjudging/valuations and attending visits she shows the club a huge amount of support. Alongside this, Jane also plays host to many club meetings where she is keen to offer advice or a helping hand with any jobs or organisation needing done. The club value Jane as a vice president and we are absolutely thrilled she has been recognised for all her hard work."