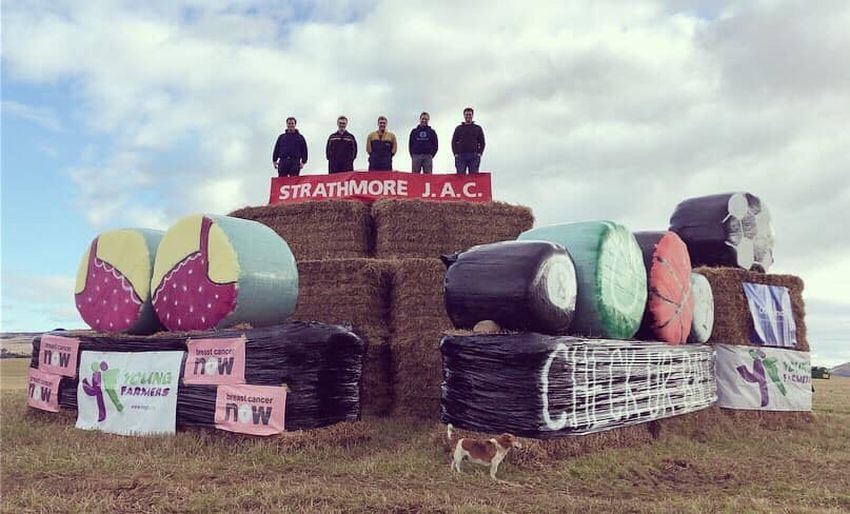 08 Oct

Strathmore JAC Bales To Top Spot & SAYFC Help Reduce Shyness Of Self Health Checks

This autumn, the annual SAYFC Young Farmers 'Bale Art' competition has reached Scotland's neighbourhoods in all shapes, sizes and designs! The competition has helped to harvest an eager rural network who have the emphasis of self-health and wellbeing checks at heart. Clubs from far and wide are aiming to engage their local communities, to highlight the significance in cancer awareness across all age ranges.

Our judges had the envious task of ordering the club's bale art structures for the final results. The SAYFC competition supported by Galbraith's saw partner of the firm, Robert Taylor – joined by Edinburgh Rugby's Italian prop, Pietro Ceccarelli.

The East Region's Strathmore JAC achieved top spot on the podium with their sculptures promoting both 'Breast Cancer Now' and 'Cahonas Scotland' which were positioned on the A94 between Coupar Angus and Meigle. The clever use of bales in their design, to encourage the checking of 'ballz' as well as breasts – helps to reduce the shyness in our society around self-checks which are encouraged by our National Health Service!
Colin Dargie, a past member of the club, showed his acknowledgment of the club's efforts on social media, commenting:
"Fantastic work Strathmore JAC, brilliant effort – this past chairman is immensely proud!"

Peeblesshire JAC's original 'Train to Recovery' gained second place which drew attention to the work of MacMillan Cancer Support on the A701 between Leadburn and Howgate.
Loch Lomond YFC's daffodil design, noticeable from the Cardross to Helenburgh road, included a colour matching yellow 'Fergie' tractor – acing them third place in their efforts to showcase their appreciation of Marie Curie Cancer Care.

SAYFC would like to thank all property owners for allowing the 'state of the art' designs to be positioned on their land, capturing the public eye and raising recognition of various health and cancer charities.