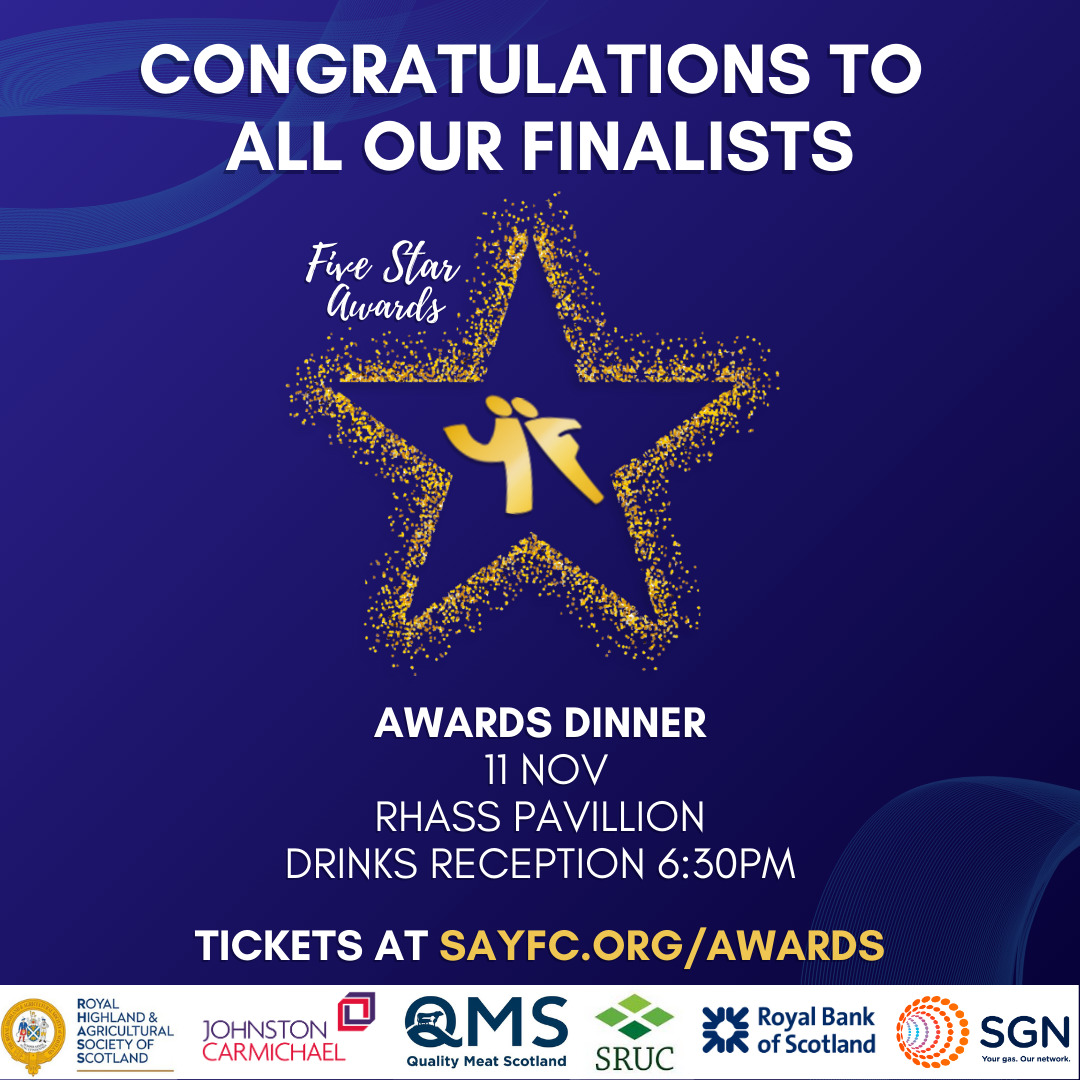 12 Oct

Awards Finalists
Celebrating the involvement of young farmers within their clubs and communities, the SAYFC 'Five Star Awards' evening gives thanks to those giving extraordinary effort and dedication.
From all necks of the country, the awards showcase the spirit, passion and adaptability of the young farmer's community, no matter the size or scale of their club or district!
We received many amazing and heartfelt nominations from across Scotland for this year's awards and our judging panel had an extremely hard task trimming each list down to just 3 finalists per category.
TO FIND OUT THE WORTHY FINALISTS FOR THIS YEAR'S FIVE STAR AWARDS SEE BELOW:
Outstanding Contribution (Supported by RHASS)

An individual who has been a loyal supporter of your Club / District for some time.   This could have been via supporting events, volunteering to be a trainer / judge or more.
FINALISTS
Avril Henderson
Bill Meston
Jane Kennedy
Community Engagement (Supported by Galbraith)

Presented to a Club with active involvement and engagement within their community
FINALISTS
Bower YFC
Callander YFC
Stranraer & Rhins YFC
Driving Force (Supported by Johnston & Carmichael)

An individual who encourages and supports your Club to be the best it possibly can be!   They are a positive influence for young members and a true Club ambassador.
FINALISTS
Jordan Barclay
Anne Craig
John Forbes
Development Award for Education and Training (Supported by SRUC)

An initiative, club meeting or event held by a Club/ District which benefited members' personal development.
FINALISTS
Aberfeldy JAC
Carluke YFC
East Aberdeenshire District
Rural Ambassador (Supported by QMS)

Someone who promotes rural life – can be YF related or simply someone doing a good job at promoting rural life whether at events, via social media or something else!
FINALISTS
Fraser Graham
John McCulloch & Wallace Currie
Yvonne Kennedy
Safety & Wellbeing Award (Supported by SGN)
An individual or a group of individuals who are helping to drive real change in farm safety.
FINALISTS
Emma Gray
Grant Neilson & Jacalyn Dunlop
Ross Jackson
Young Farmer of the Year 2023 (Supported by Royal Bank of Scotland, Galbraith and ATV Services)
During the Regional Rallies held in July 2023, members completed various tasks to qualify for the final of the 2023 Young Farmer of the Year competition. On Saturday 11th November they will battle it out, before the lucky winner is announced in the evening.
FINALISTS
Ally Brunton (East Fife JAC)
Andrew Frank (Udny YFC)
Ewan Lambie (Strathearn JAC)
Scott Limond (Ayr YFC)
Ryan Luckhurst (InverRoss YFC)
David Smith (Crossroads YFC)
The Awards Dinner will be held on the 11th November in the RHASS Pavillion at the Royal Highland Centre. If you want to come along on the night and support our finalists you can buy tickets for our Awards dinner HERE.
---
The Awards Dinner is also included in tickets to our Agri & Rural Affairs Conference on the 10th- 12th November. Check out the jam packed schedule HERE.